About Us

DevUp Inc. is a federally incorporated web development and service company headquartered in Toronto, ON.  Founded by long time collaborators Nicholas MacLeod and Rob Williams in 2015, DevUp is a continuation and consolidation of two successful techpreneurs. We may look like we're 'wet behind the ears' but rest assured Rob and Nick have over 30 years of combined web experience.
Our operations office in Charlottetown, PEI handles the day-to-day administration of the business and client relations. The Toronto headquarters is the lifeblood of the organization, located in the technology capital of Canada.
DevUp uses modern server infrastructure in a secure level 1 datacenter.  If you're a tech person you know that only Solid State Drives will do – we think the same way.  DevUp always maintains control over the server and operating system – we don't trust that with just anyone.  Our model provides our customers with a high level of reliability and security with almost unlimited custom configuration to get the job done.
Rob Williams
Rob is the co-founder of DevUp Inc., a web development firm headquartered in Toronto, ON.  Together with his business partner, Nick, they plan on taking over the world, one website at a time. CTO by day, development ninja by night, he steals off into the darkness leaving satisfied clients and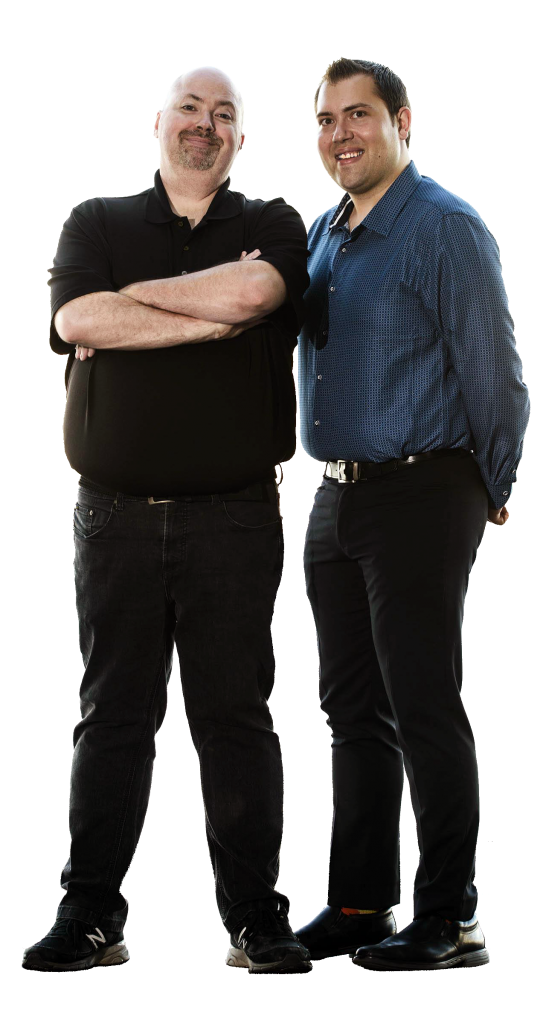 dynamic websites in his wake.
Rob has spent the last 25 years "making things work" – server administration, web design, application development, database management – he's done it all. Throughout his career, he has built a reputation for problem solving and getting the job done, but isn't afraid to enjoy what he's doing at the same time. Building a rapport with clients is important to him, because a sense of trust between client and developer is paramount. Some relationships can be like oil and water, but Rob prefers oil and vinegar with a hint of lemon and a touch of fresh ground pepper.
Past clients include an international juice producer, an ETF and mutual fund provider with over $2B in assets under management, a national business supplies provider and an anti-money-laundering firm. Looking forward, who knows what the future will hold – and that's part of the fun.
During his downtime, Rob expresses his creativity through various art mediums – oil painting, glass mosaics and interpretive dance, for example – and enjoys travelling.
Nick MacLeod
Nick MacLeod is an information technology specialist and entrepreneur who lives in the heart of Charlottetown.  After graduating with a Bachelor of Business Administration, a Minor in Information Technology and a Specialization in Entrepreneurship, Nick founded DevUp with Rob Williams.
As President of DevUp Inc, MacLeod offers clients a full range of commercial web and application solutions.  Nick helps businesses finely-tune the constantly changing processes and technologies that make businesses run more efficiently.
When Nick is not speaking at public engagements, winning business competitions or attending business meetings, he engages in social networks; absorbs news locally and globally; and enjoys the many charming qualities of downtown Charlottetown.
Team
DevUp has a wide range of clients and requirements, because of this we don't maintain a static team from day to day. Although Nick and Rob steer the ship, there are lots of talented people we draw on to complete our projects.  Every project is unique and is best completed by the person with the exact skills required.  Our modern business systems allow us to draw on the talents of developers and consultants anywhere in the world anytime of the day.  We build our team once we spec the project and we actively collaborate with the client and team to make it happen as efficiently as possible.